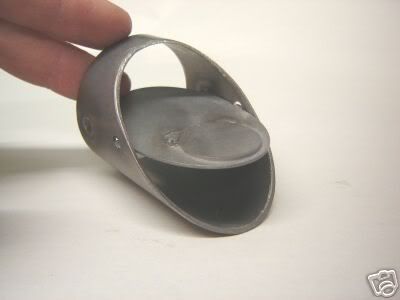 1957 CHEVY ONE-WAY GAS FILLER CHECK VALVE
IS YOUR LEFT TAIL LENS CRACKED ON YOUR 57?
DO YOU HAVE STREAKS ALL OVER THE CHROME TAILLIGHT AND REAR BUMPER?
DO YOU DRAG RACE YOUR 57?
WELL CHEVROLET NEVER PUT ANY BAFFLES IN THE STOCK GAS TANK. WHEN THE GAS TANK IS 3/4 FULL OR MORE AND YOU HIT THE THROTTLE, ALL THAT FUEL IS TRYING TO GET OUT OF YOUR TANK. THERE IS NO PLACE FOR IT TO GO EXCEPT UP AND OUT THE FILLER NECK. CHEVROLET'S GAS CAP DOES NOT SEAL VERY WELL AND FUEL LEAKS OUT ALL OVER YOUR BEAUTIFUL CHROME AND TAIL LENS. THE LENS THEN CRACKS AND THE CHROME GETS THOSE BLUE STREAKS RUNNING DOWN IT.
NO MORE LOST FUEL AT $3.50 A GALLON!!
NOW I HAVE A FIX FOR THIS 50 YEAR OLD PROBLEM. A ONE WAY VALVE THAT SLIPS INTO THE STOCK GAS FILLER RUBBER HOSE ON ALL 1957 CHEVYS. THE VALVE WILL STOP THE FUEL FROM RUSHING OUT OF THE TANK UNDER ACCELERATION AND WITH FUEL AT 3.50 A GALLON, THIS VALVE WILL PAY FOR ITSELF. THIS KIT CAN BE INSTALLED IN AROUND FIFTEEN MINUTES WITH SIMPLE HAND TOOLS.
ALSO, I HAVE HAD MANY PEOPLE BUY THIS VALVE THAT DRAG RACE THEIR 57 AND ON A HARD LAUNCH, THE EXPENSIVE RACE GAS RUSHES OUT AND GETS ALL OVER THE DRAG STRIP. WHICH REALLY MAKES THE NEXT GUY IN LINE AND THE TRACK OFFICIAL IRRITATED. ALL OF THE PEOPLE THAT INSTALLED MY VALVE SAID IT FIXED THIS PROBLEM ALSO.
YOU WILL GET THE PRE-ASSEMBLED STAINLESS STEEL VALVE, FUEL APPROVED GAS FILLER HOSE, THREE HOSE CLAMPS AND DETAILED INSTRUCTIONS WITH PICTURES.
ALL OF THE VALVE COMPONENTS ARE MANUFACTURED FROM 304 STAINLESS STEEL TO PROVIDE YOU WITH A RUST FREE LIFETIME OF SERVICE.
OTHER APPLICATION INQUIRIES ARE WELCOME